True HEPA Filter Air Purifier with UV Light Sanitizer, Eliminates Germs, Filters Allergies, Pollen, Smoke, Dust Pet Dander, Mold Odors, Quiet 22 inch 4-in-1 Air Purifier for Home AC4825E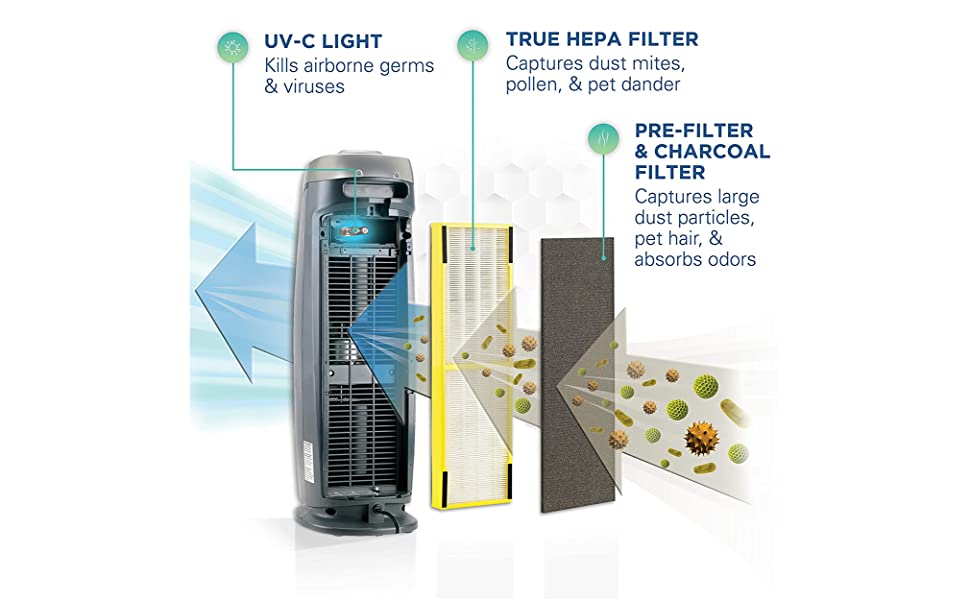 Multiple Levels of Cleaning

HEPA Filter

Captures 99.97% of dust and allergens

Charcoal Filter

Reduces common odors from pets, smoking and cooking

UV-C Light

helps reduce airborne bacteria, viruses, and mold spores

TIO2 treatment

Works with the UV-C to reduce VOCs

Captures Dust & Allergens

HEPA Filter captures dust and allergens such as household dust, pet dander, mold spores and plant pollens.

UV-C Fights Germs

UV-C light helps reduce airborne bacteria, viruses, mold spores* and works with Titanium Dioxide to reduce volatile organic compounds (VOCs).

*Tested with Staphylococcus Albus, and Escherichia Coli, & Phi-X174

Reduces Odors

Equipped with a charcoal filter that reduces common odors from pets, smoking and cooking.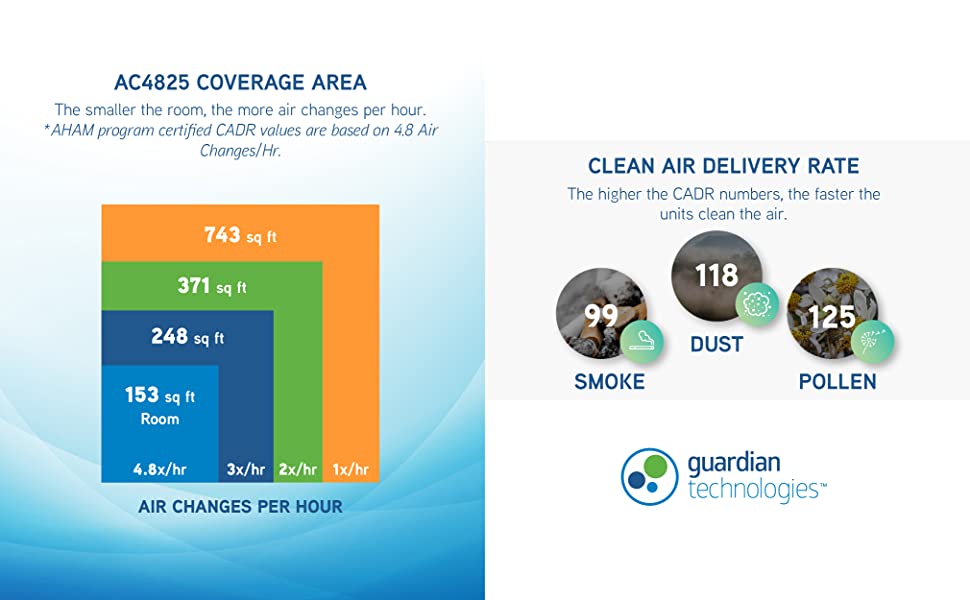 FAQs:
What is CADR?
CADR stands for "Clean Air Delivery Rate" which indicates the volume of filtered air delivered by an air purifier. CADR ratings show the effectiveness of how efficient the air purifier is at capturing fine particles from things like tobacco smoke and plant pollens from the room.
How do I know when I should replace the filter?
It is recommended that you replace the Combination Filter every 6 months — depending on use — to maintain an optimal level of air purification. When the filter turns from white to dark grey or black, it should be replaced with a new one. If the filter is still white, it does not need to be replaced.
What is UV-C light?
UV-C is part of the ultra-violet light spectrum that is filtered out by the earth's atmosphere. The "C" stands for the particular frequency of UV light that kills germs.
Why is UV-C light so effective?
UV-C light is highly effective at penetrating thin-walled germs like viruses and bacteria. The light alters the genetic structure of the germ, and they die.
Why is the red and/or blue light blinking when I first turned on the air purifier and how do I shut it off?
The air purifier now comes equipped with indicator lights that automatically blink when it's time to replace the Filter or UV-C bulb. If the reminder lights are blinking the first time you turned on your purifier, simply reset the system by holding the UV button for at least 3-5 seconds until the reminder lights stop flashing. Your product is now set and ready to go!
Do I need to replace my filter?
Yes. It is recommended that you change the Filter (FILTER B/FLT4825) every 6 to 9 months depending on use.
100% Secure payment with SSL Encryption.
If you're not 100% satisfied, let us know and we'll make it right.
Orders ship within 5 to 10 business days.
Tip: Buying 2 products or more at the same time will save you quite a lot on shipping fees.